The Holly Family

God called on Saint Joseph he also calls you

There's a knight that lives within you

The Church needs you now more than ever

Being a leader in your home, church and community

Help create a scholarship fund for children

Buy a cemetery plot or crypt from the Knights of Saint Joseph

Gift Store

Fundraisers
Feast day: March 19
Saint Joseph - Protector of the Catholic Church
Everything we know about the husband of Mary and the foster father of Jesus comes from Scripture and that seems too little.
We know he was a carpenter, a working man, for the skeptical Nazarenes ask about Jesus, "Is this not the carpenter's son?" (Matthew 13:55). He wasn't rich for when he took Jesus to the Temple to be circumcised and Mary to be purified he offered the sacrifice of two turtledoves or a pair of pigeons, allowed only for those who could not afford a lamb (Luke 2:24).
Despite his humble work and means, Joseph came from a royal lineage. Luke and Matthew disagree some about the details of Joseph's genealogy but they both mark his descent from David, the greatest king of Israel (Matthew 1:1-16 and Luke 3:23-38). Indeed the angel who first tells Joseph about Jesus greets him as "son of David," a royal title used also for Jesus.
We know Joseph was a compassionate, caring man. When he discovered Mary was pregnant after they had been betrothed, he knew the child was not his but was as yet unaware that she was carrying the Son of God. He planned to divorce Mary according to the law but he was concerned for her suffering and safety. He knew that women accused to adultery could be stoned to death, so he decided to divorce her quietly and not expose her to shame or cruelty (Matthew 1:19-25).
We know Joseph was man of faith, obedient to whatever God asked of him without knowing the outcome. When the angel came to Joseph in a dream and told him the truth about the child Mary was carrying, Joseph immediately and without question or concern for gossip, took Mary as his wife. When the angel came again to tell him that his family was in danger, he immediately left everything he owned, all his family and friends, and fled to a strange country with his young wife and the baby. He waited in Egypt without question until the angel told him it was safe to go back (Matthew 2:13-23).
We know Joseph loved Jesus. His one concern was for the safety of this child entrusted to him. Not only did he leave his home to protect Jesus, but upon his return settled in the obscure town of Nazareth out of fear for his life. When Jesus stayed in the Temple we are told Joseph (along with Mary) searched with great anxiety for three days for him (Luke 2:48). We also know that Joseph treated Jesus as his own son for over and over the people of Nazareth say of Jesus, "Is this not the son of Joseph?" (Luke 4:22)
We know Joseph respected God. He followed God's commands in handling the situation with Mary and going to Jerusalem to have Jesus circumcised and Mary purified after Jesus' birth. We are told that he took his family to Jerusalem every year for Passover, something that could not have been easy for a working man.
Since Joseph does not appear in Jesus' public life, at his death, or resurrection, many historians believe Joseph probably had died before Jesus entered public ministry.
Joseph is the patron of the dying because, assuming he died before Jesus' public life, he died with Jesus and Mary close to him, the way we all would like to leave this earth.
Joseph is also patron of the universal Church, fathers, carpenters, and social justice.
We celebrate two feast days for Joseph: March 19 for Joseph the Husband of Mary and May 1 for Joseph the Worker.
There is much we wish we could know about Joseph -- where and when he was born, how he spent his days, when and how he died. But Scripture has left us with the most important knowledge: who he was -- "a righteous man" (Matthew 1:18).

Saint Joseph - Protector of the Catholic Church

Saint Joseph was declared patron saint and protector of the Catholic Church by Pope Pius IX in 1870. Saint Joseph is also patron of several countries and regions.

Joseph was the husband of the Blessed Mary, mother of Jesus. Through marriage he became the legally recognized guardian of Jesus Christ. With the understanding that Jesus was born into a particular family for a specific purpose. God and Christ chose Joseph to be father and legally recognized guardian to Jesus on earth.

Christ was not born illegitimate. First he was miraculously conceived. This was an act of God for all humanity and his birth was anticipated before this time. The marriage of Joseph and Mary, has Christ being raised as a legitimate child. Christ is legally recognized as being the son of Joseph and Mary and the Son of God. He was born a human being with a Divine Spirit.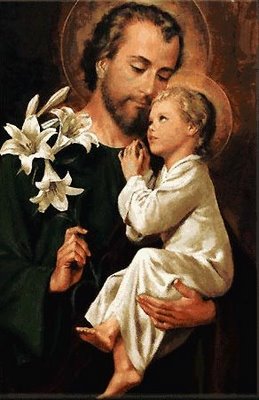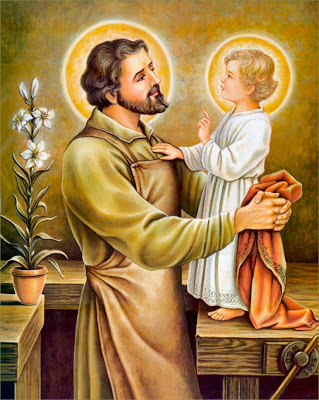 The spiritual bond between two people is revealing a connection.

If we are to look at Scripture and what is written to quote this.

"I Jesus have sent my angel to testify unto you these things in the churches. I am the root and the offspring of David, and the bright and morning star." Revelation 22:16

The Holy Bible, even translated, is taken to be the Word of God. We have here very clear and precise evidence to identify that Christ is directly connected to David.

With Christ being described as a shepherd tending sheep - sheep is also an expression in relation to people. Christ was not born to work in the fields and sheer sheep. He was born to spiritually enlighten mankind and to guide people in the right way. So here we have the idea from a spiritual perspective of a shephed tending to his sheep.

A man with a spiritual heart who marries a lady with a spiritual heart, we can get the impression of the spiritual relationship and service the gave. From this we can also begin to imagine the parent's they were raising a child born spiritually awake.

There is something that has been missing from this picture. All children who have descended from King David are born Royal Prince and Princess. There are people saying that this does not apply for women - God gave such importance to a woman, this is why He entrusted women to carry in their womb the seed that becomes a new human life.

No man or woman has the right to invalidate what God Ordains.

The Blessed Holy Mary had a pure heart. The baby born from her, was Royal by blood and a Crowned Royal by God. The announcement of Christ being King of Israel when he was being crucified, did not take into consideration, his resurrection.

God is very clever. He knows all the devious ways and plans of man. Even now and throughout the times, the truth is still going to come to light because it has to. Sometimes just focus on the simple, instead of complicating matters to get to the truth.

And even if you do not get the precise details, there is nothing stopping you from searching and to keep searching for the truth. God will reveal everything that you want to know, if you are meant to know. Seek the truth and you will eventually find the truth.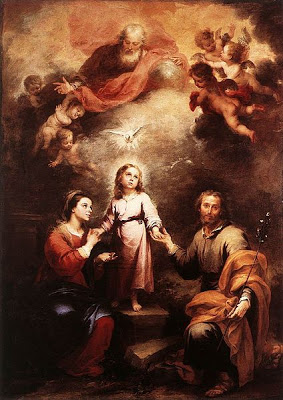 Holy Family with the Holy Spirit by Murillo, 1675-1682.

Notice in the painting above, Christ is raised and illuminated - the dove is symbolising the Holy Spirit and this is while He is still a child. Look closer to see Mary wearing a red dress and has the spiritual lilac colour seen on her lap. This indicates that her third eye chakra is open and already we know she was also given the gift of the Holy Spirit. Cast your eye over to Joseph and he has a metal rod, we see with some design at the top. This is again could be giving some indication of his technical ability with metal.

However, ruling with a rod of iron is identified in the Holy Scripture. Also Queen Elisabeth has a sceptre that is made from metal and not a wooden staff.

"And he shall rule them with a rod of iron; as the vessels of a potter shall they be broken to shivers: even as I received of my Father." Revelation 2:27

Many people might think ruling with a rod of iron is to be ruthless and yet this is not how Jesus Christ was. Joseph either. This is the Holy Royal family.


When Jesus was crucified, under Jewish custom have been expected Joseph, his father by marriage to Mary to take charge of Jesus' body. However, this role was instead performed by Joseph of Arimathea. Since ancient times, family graves are maintained. Even the family names are maintained and passed down to other relatives. With Joseph of Arimithea, who was a wealthy man, being uncle of Mary this explains why he took control.

Not only are we shown the importance of the Matriarchal lineage being preserved, we are also given the impression that both Josephs are also family relations.

The truth of the details is written in history. My sharing here is just to open your mind to realize a greater perspective and understand, while people are written about in the Holy Bible they were much more than words on a page. These people are our ancestors and we have all descended from the family lines that have been identified.

For this reason Joseph was seen as being the divinely guided protector of the Holy Royal family. For this reason alone, it is very easy to see why St. Joseph was chosen to be the Patron Saint and Protector of the Catholic Church.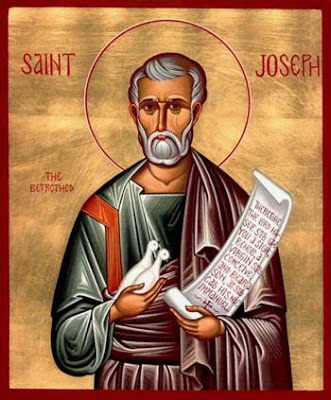 As you read the story of Saint Joseph you see his obedience to God. His care in protecting his son the future of the church as we know it and his holly wife. You should see a need and feel a desirer to be part of what was needed then and still needed today, the protection of the church. The protection of our families, the protection of our faith. We need to join forces to protect the word of god. From those who may have no faith or respect for the laws of god. Be part of the leadership within our church and community and work to be part of a better world.
JOIN THE KNIGHTS OF SAINT JOSEPH
Main Council Phone Number 323-270-5387
http://www.ssvmusa.org/events/CatholicCulture/StJoseph.shtm
http://www.osjoseph.org/stjoseph/scripture/
http://www.osjoseph.org/stjoseph/liturgy/
http://www.osjoseph.org/stjoseph/apocrypha/
http://www.osjoseph.org/stjoseph/magisterium/
http://www.osjoseph.org/stjoseph/churchfathers/
http://www.osjoseph.org/stjoseph/art/
We provide garage door repair and service to the following States
Alaska | Alabama | Arkansas | Arizona | California | Colorado | Connecticut | District Of Columbia | Delaware | Florida | Georgia | Hawaii | Iowa | Idaho | Illinois | Indiana | Kansas | Kentucky | Louisiana | Massachusetts | Maryland | Maine | Michigan | Minnesota | Missouri | Mississippi | Montana | North Carolina | North Dakota | Nebraska | New Hampshire | New Jersey | New Mexico | Nevada | New York | Ohio | Oklahoma | Oregon | Pennsylvania | Rhode Island | South Carolina | South Dakota | Tennessee | Texas | Utah | Virginia | Vermont | Washington State | Wisconsin | West Virginia | Wyoming |